The truth is that many otherwise disciplined men and women suffer from Imelda's footwear fetish, albeit to a lesser degree. Shoes are a perfectly comprehensible passion, and many of us display cupboards full of the most delicious examples, bearing mute testament to our past footwear follies.
The world is full of shoe fanatics, whose personal Achilles heel (if you'll forgive the pun) is the apparently unending pursuit of the perfect piece of shoe leather. Many who can cheerfully pass up any number of other temptations, who can dismiss furs, fashions and jewelry with nary a covetous glance, who can bypass caviar, champagne or South Seas vacations, and who are capable of virtuously sticking to their budgets, are totally undone by a great pair of shoes.
Show them a new shape, a different heel or a sexy vamp and that tell- tale gleam of cupidity will soon light up their eyes. Zip goes the will power and out comes the credit card – all for the instant gratification of yet another pair of shoes.
Curiously enough, mere possession is often half the thrill. Frequently, we don't even wear the shoe swe buy. We just like to look at them. They're reassuring in some inexplicable way.
Says fashion designer Alfred Sung, a noted connoisseur, "I have all kinds of shoes, all fabrics and all colors. Price is never a factor – they're just nice to have. Even if they're not comfortable, if I love them, I'll buy them and wear them only a few hours, or I'll just keep them to look at. If I don't buy a particular pair of shoes, I know I'll regret it, so I always do."
Model Enid Rose: "Comfort? It's a bonus, as far as I'm concerned. If I really love the shoe, I'll just wear it and suffer."
Special events co-ordinator Barbara Hershenhorn: "I have over a 100 pairs of shoes. It was much worse, but I cleaned out my closet. I treat my shoes like my best friends – I look after them, polish them and take them in for refurbishing."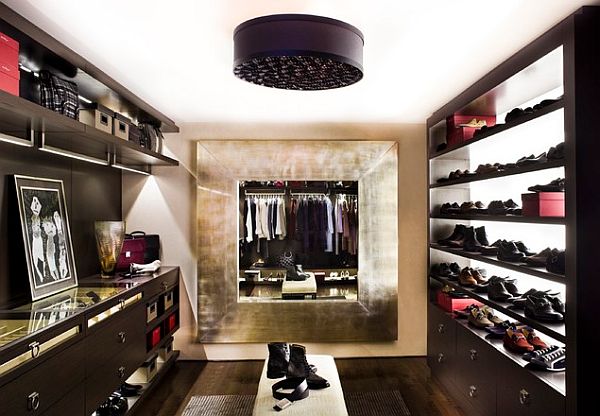 Model agency owner Linda Hill: "I have hundreds and hundreds of pairs of shoes. I'm compulsive – it's like an addiction. If I see a pair I like, and they're even slightly different from a pair I already own, I buy them. Sometimes I don't even try them on. Comfort? I don't care. I'm surprised my feet haven't given way – I've been suffering for years and there's no end in sight. Imelda, I understand]"
Fashion director Noreen Berg: "I love shoes. I don't need any excuse to buy them. No, I won't tell you how many pairs of shoes I have. Yes, I've made shoe mistakes. I have them stashed away in the back of the closet. What can I say? The emotion wore off, I realized they were too tarty or too boring, and just didn't like them any more."
Publicist Signy Stephenson: "I have six pairs of evening shoes that I bought because they were so cute. I never wear them, but if I did, they would go with everything."
We use shoes to shore up our fragile psyches. Says corporate relations director Chris Yankou, "I love shoes. Most women love shoes. They can make you feel happy. If you're feeling unhappy or pathetic, they'll always give you a lift. The good thing about best running shoes for bunions is that whether you lose your job, or get too fat or too thin, or your hair is a mess – your shoe size stays the same."
Shoes also denote a certain social consciousness. Says writer Winston Collins, "Shoes are a barometer of social status. If you go to a fancy restaurant, watch the snooty maitre d'hotel. He'll invariably check out your shoes and, depending on their condition, will seat you accordingly. Take my advice, if you don't want to be seated beside the kitchen or men's room, wear your best shoes."
Illustrator Donald Robertson agrees. "You can dress like a slob, but if you're wearing a really good pair of shoes, you'll get by."
Chris Yankou: "You want to know how important shoes are? A good friend of mine recently broke up with a man because he came to pick her up for a date and he was wearing toe rubbers. Yes]"
We also have very specific and individual preferences. Alfred Sung says, "Right now, I'm addicted to running shoes. I just keep buying them."
Signy Stephenson: "I have about 25 pairs of shoes in different colors, although most of them are red. I just love red shoes."
Multi-media personality Micki Moore agrees. "I've branched out into color. I think great colors make you feel happy."
Most people are adept at justifying their best shoe for plantar fasciitis purchases. Says Donald Robertson, "I hate feet. I think they're ugly, and toes are even worse. Therefore, shoes are a necessary solution to the foot problem – they cover them up. Anyway, you can rationalize buying new shoes, because feet are very important. Besides, shoes perk you up, they make you feel good. Children always get new shoes on special occasions – Christmas, Easter, back-to-school – so shoes are always associated with holidays and other good times."
Another confirmed shoe lover, who would rather remain anonymous, reveals, "Shoes are great because they're so easy to get past customs . . . you just scuff up the bottoms."
One of Toronto's most shoe- conscious executive secretaries, who prefers to be known as "Deep Shoe," says, "I find that if I rotate my shoes, they last a lot longer. Isn't that a good excuse for buying lots of shoes?"
Having a tough foot to fit is a great excuse. Linda Hill's size 6 1/2 foot warranted hundreds of purchases during her modelling days, "Because most models have big feet and they never had my size, so I just had to buy them."
Enid Rose also looks to her foot size for justification. "I'm always buying new shoes. I keep hoping people will concentrate on how lovely the shoes are, and not notice my big feet."
Modelling itself is a great rationale for collecting shoes. Says model June Round, "Although I do honestly love shoes, remember the business I'm in. Clients often request a selection of shoes for a shoot or a show, and I have to be prepared."
Seasonal sales are another terrific excuse. Chris Yankou: "I'm addicted to expensive suede shoes in bright colors, but I refuse to spend more than $200. I wait for a sale, and pray nobody else buys them."
Micki Moore: "I like to buy on sale. You have to remember that a $300 pair of shoes wears out and scuffs just as quickly as a $90 pair and, if you buy really expensive shoes, you're paying for the high style and it will be out of fashion in no time."
Enid Rose, who may qualify as the quintessential shoe-seeker, says, "If I'm somewhere like the Eaton Centre, I'll hit every shoe store. I'm always telling friends about great buys on shoes. Recently, I bought nine pairs of shoes at once, all different. It was a good buy – they were 50 per cent off, so how could I resist? When I came out of the store, clutching my bag of bargains, I found that my car had been towed away] So I spent what I'd saved on shoes to get my car out of the pound. What can I say? I love shoes."
And now, if you'll excuse me, I just have to go and buy a pair of shoes.
L'Elegante keeps 45 per cent of the proceeds of sales, not 55 per cent as was reported in last week's column.